Nenorocit
The Creatures of Eternal Lands

Statistics
| | |
| --- | --- |
| Attack/Defense: | 120/120 |
| Health Points: | 5000 |
| Mana Points: | 0 |
| Ignore level: | N/A |
| Summonable: | No |
Description
The Nenorocit looks somewhat like a moose. As the Unicorn, it can't be attacked while it has more than 200 hit points when it becomes vulnerable. However it can be hurt/killed by mines/caltrops. It has a random chance (of 1/2000 per second it stands still) to change maps. It carries and can use some Poison Antidotes.
Creature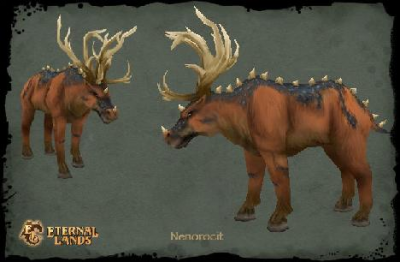 Locations
Drops
Special Drops
It will change the day to a random special day when killed by engineering on a regular day. If it is a special day, the day will not change, but instead it will always drop a Special Day Stone or Bad Day Removal Stone. This is in addition to the 50000 gc. It will also drop a Random Item Giver

It is attackable once he reaches 200 hp, if he dies fighting he will always drop a stone and not use it.

If it changes the day it does so BEFORE it dies, about at 100-150 hitpoints. It drops the cash in a deathbag upon death.